Welcome To My List Of Pages Page!
< br>





Hi Everyone! Welcome to my webpage. This is where I get to share my GRIPES with the world! There are also alot of funny, true stories on my Gripe Page. You can also comment on the irritating, annoying, and bizzare things that happen in your life. Get it off your chest!

---


This website also has some of the articles, jokes, and stories that I thought were worth passing along; As well as some helpful info. I started this site in March, 1999. My index page now has over 109,000 hits! Woo Hooo! Too bad I haven't made any money off of it! (haha)


Praise for the Gripe Report!
"Hello Marty, You have been sending your gripe pages to me and others and I want you to know just how much I have thoroughly enjoyed the reading. I was unable to sign your guest book, so I'll take this time to let you know that I think you express yourself very well. Also all pages are very well written.

 I have taken the liberty to pass your pages on to others who are not on your list, knowing that they would enjoy your writings also. Please continue with your works and by doing this, you tend to brighten others lives. Thank You, Marie"

Wow. Thanks Marie! That was very sweet of you to say. I'm glad you like the page! That's what makes it fun, knowing that people enjoy reading it.

Do You BELIEVE THIS?!
Visit my WEEKLY GRIPE REPORT.
(and vent about what's annoying you!)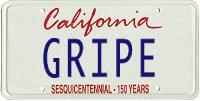 The Fence


Top Ten Reasons God Created Eve


Some Helpful Advice For WebTv Users!!
A Must See!


Real Audio Links
If you're a music lover you'll LOVE these pages!


Assisted Suicide Legal In California?!!


Top 10 Rejection Lines Given By Women
(And What They Mean)


NEW! My FUNNY PICS SERIES!!
(Lots of Laughs)


New Warnings On Alcohol Labels!


To have a virtual pepperoni pizza delivered, click here!!


Why Don't You Send Help?!


Tending Lives


Does Anyone Remember These??!!


What Are You Thankful For?


Ridiculous and Absurd Product Labels


The Eyes Of Love


Kids Say The Funniest Things!


30 Very Funny Ways To Annoy Others


You Know You've Been Out of College Too Long When...


Los Angeles Drivers License Application


Some Fun things To Do At Walmart!


The top 20 country song titles of all time! (funny)


You Know You're In California When...


"The Smarter Sex"


My Rocky Balboa Tribute Page!
(This page takes a minute to load)


Everyone loves a good blonde joke...right?


An intimate confession-
For Better Or Worse


You Know You're Ghetto If...



The #1 Reason You Should Keep Drinking Big Gulps
Zany Car Insurance Accident Reports!
(This has been around for years... But it's still very funny!)



Movies , Music, Dogs and more! (my personal page... the first page I made)
Some Stuff I Like (personal page part 2)
My Dog Maxine's page!
(you gotta see this one!)
Not Your Ordinary Cat! (FUNNY picture)
Let's Get Silly!!
Live California Webcam Page
Want Music In Your Webtv E-mail?
"A guy and an Ostrich go into this bar..."
New!! Want More?!
My 2nd List of Pages!
Sign My Guestbook Below!
CDNOW is a site that I use often... It's real cool because you can type in any artists name, and see a complete discography; All their work, past and present! And with real audio samples, to hear the music!! Or, you can search by song title! Like...Type in your spouses or girlfriends or boyfriends name in the song title category...You can see any/all song titles with that name! Plus if you buy anything, your good ol pal Marty gets a cut!! Wooo Hooo! Search below:



Sign my guestbook and let me know what you think!
SIGN My Guestbook
READ My Guestbook
Read my full guestbook (from the past year)

This page has been visited
times.



My next GRIPE SHOW on the radio airs this coming Saturday, August 12th, at 2:30 am to 3 am PACIFIC CALIFORNIA TIME. (So east coast people can listen at 5:30 am) The station is in Hollywood, BUT it is also ONLINE! Listen to it at http://www.kclafm.com <~~(click there to listen!)
If you are on Webtv and can't get the audio, an alternative is to call the KCLA "listen-in-line" in Hollywood, California (yeah right.. like you're gonna do THAT!) at (323)461-6675.